TECHNOLOGY DESCRIPTION
紹介
Learn more about E Ink and how our technology works.
電気泳動式電子インク(electrophoretic ink)技術は,一般的に電子インク(electronic ink)と呼ばれています。プラスチックフィルム上に電子インクを塗布し,さらに薄膜トランジスタ(TFT)回路を貼りつけ,駆動ICで制御してピクセル図形を形成することで,電子ペーパーディスプレイ(Electronic Paper Displays, EPD)ができ上がります。
電子インクで使用する原料は印刷産業と同じようなものですが,化学,物理学,電子回路等の分野における知識や技術を融合させることによって,電子インクという全く新しい材料がこの世に誕生しました。他のディスプレイ技術との最大の違いは,電子ペーパーは反射式,バイステーブルなディスプレイ技術であるという点です。そのため,視覚上伝統的な紙媒体のように目に優しく,低消費電力を実現することができます。
1色電子インクの原理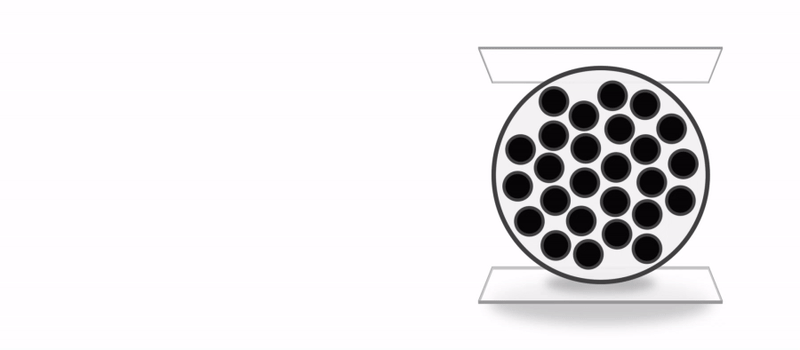 E Ink JustTint™ is a variable transmissive film, which, when adhered to glass or plastic, allows for control of the light through the surface. JustTint utilizes a one-particle ink system, but drives the ink in new ways versus other ink systems. In JustTint, the black particles move to the side when a charge is applied to allow a transparent area of the capsule.
2色電子インクの原理 - E Ink Carta™ & E Ink JustWrite™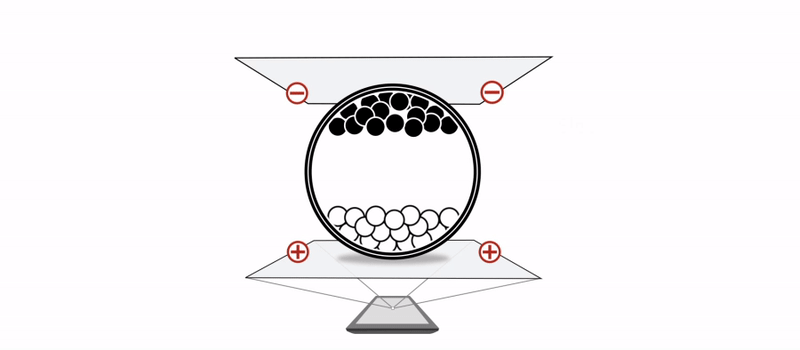 電子インクは,数百万個ものマイクロカプセル(microcapsules)からなっています。マイクロカプセルは,人の髪の毛の直径ほどの大きさになっており、マイクロカプセル一粒一粒に,マイナスに帯電した白色顔料と,プラスに帯電した黒色顔料という2種類の電気泳動式粒子が含まれていて,それぞれ透明な液体の上下に浮かんでいます。プラスとマイナスがそれぞれ反対の電極へ吸着する原理を利用し,電界に電気を通すと,そのエリアに対応した黒色または白色の粒子がマイクロカプセルの上部へ移動していき,そのエリアが白色または黒色に映ります。
E Ink Carta™ films utilize this two particle system.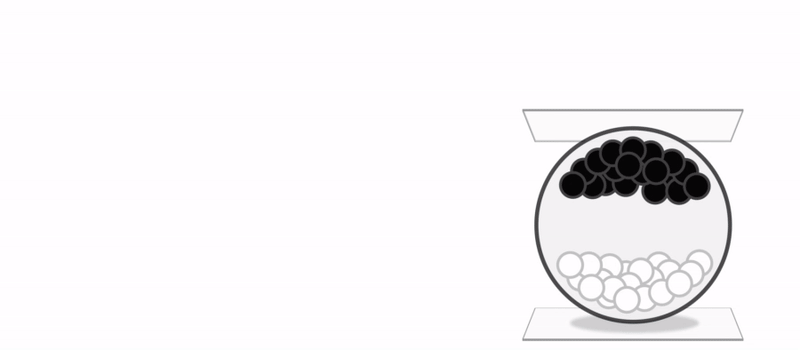 E Ink JustWrite™ is another of E Ink's film utilizing a two particle system. This film works differently than our Carta films, and is designed to deliver a natural writing experience without the use of a TFT backplane or complex electronics. In JustWrite, a magnetic pen is the "driver" to move the ink; to reset the display back to clear, a small electrical charge is applied. JustWrite retains the same image stability of all of our ink platforms and power is only utilized to reset the image.
3色電子インクの原理 – E Ink Spectra™ 3000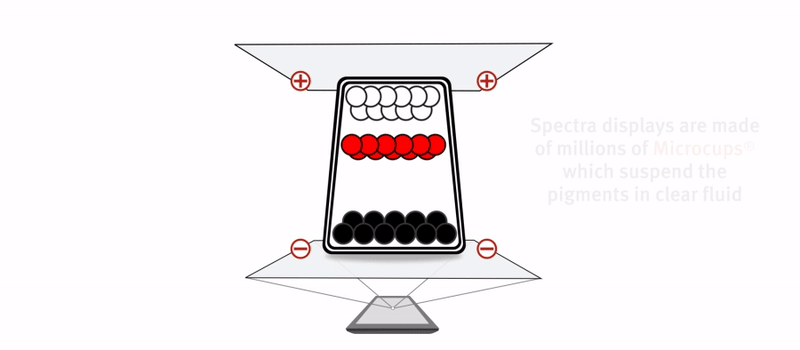 E Inkは,3色電子インクシステム(モノクロ+赤色か黄色)も提供しており、近年では特に電子棚札(Electronic Shelf Label,略称ESL)への応用事例が増えています。

E Ink Spectra™ 3000 - 3色電子インクシステムの動作原理は,2色システムと同じように,異なる電圧を加えることで,各種カラー粒子が上層へ移動し,様々な色を表します。3色システムは,マイクロカップ技術(Microcup®)を用いて開発されています。
4色電子インクの原理 – E Ink Spectra™ 3100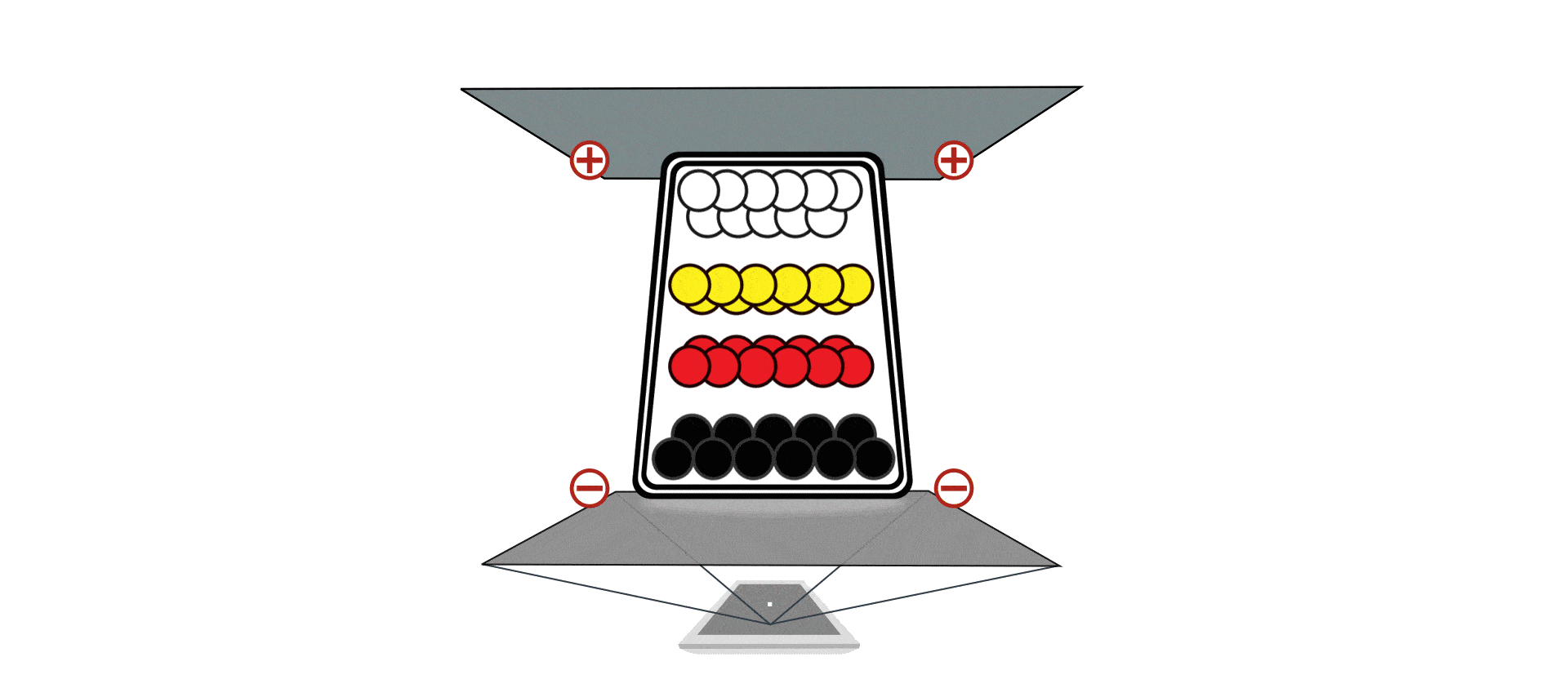 E Ink Spectra™ 3100 is E Ink's next generation Spectra product. Spectra 3100 is a four particle ink system which incorporates retailer's requests for additional color functionality, by utilizing black, white, red and yellow particles to offer vibrant color for rich content. Spectra 3100 has an improved update time, and an expanded temperature range for red and yellow states to satisfy retailers' needs to operate ESL tags in various environments within their stores. In addition, Spectra 3100 is offered in panels with an updated all-in-one driver IC that supports premium ESLs with higher resolution across various sizes.
4色電子インクの原理 - E Ink Gallery™ & E Ink Prism™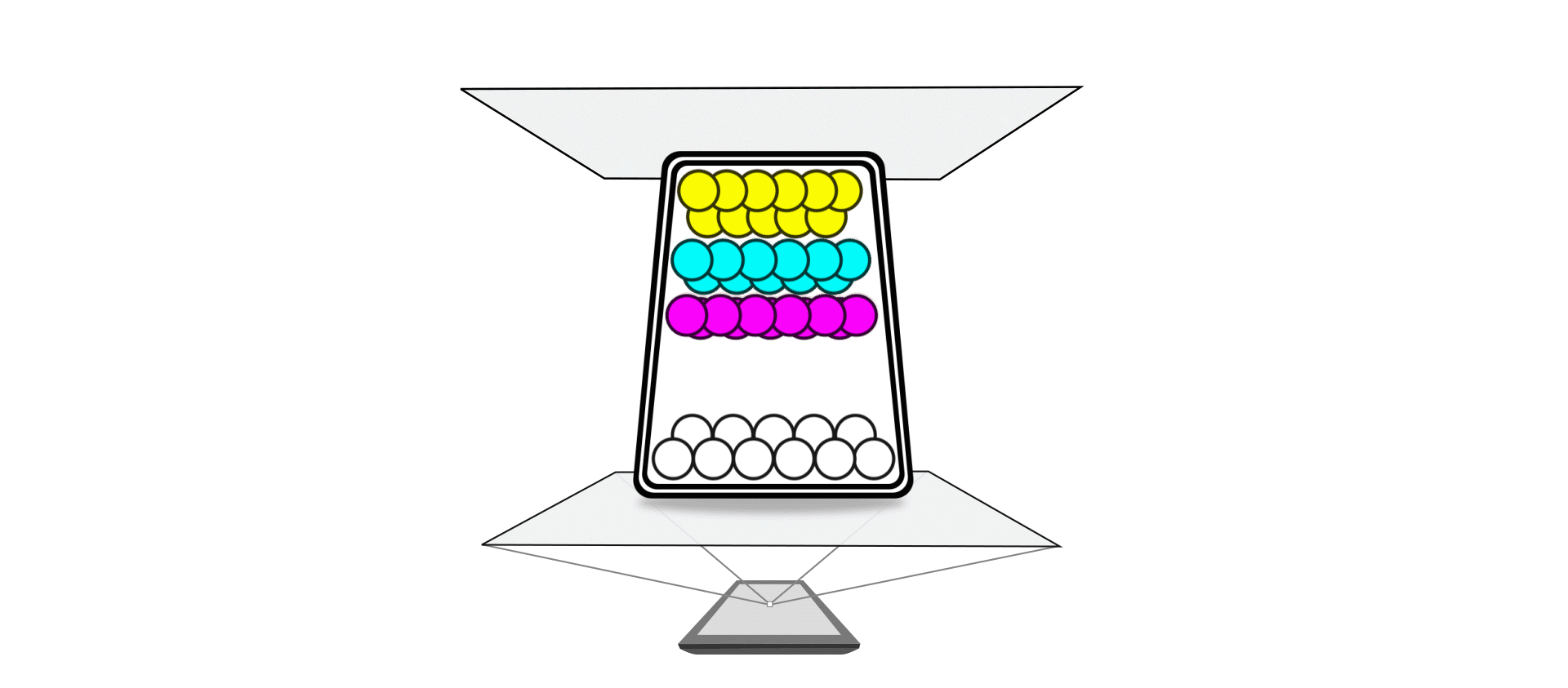 Based on the Advanced Color ePaper (E Ink ACeP™) Platform
2016年,E Inkは多色電子インクシステムを発表し,これをアドバンスドカラー電子ペーパーディスプレイ(Advanced Color ePaper, ACeP)と名付けました。ACePカラー電子ペーパーは,色のついた粒子によって,カラーフィルムを必要としないフルカラー表示を実現しました。これは,マイクロカプセル(Microcapsule)またはマイクロカップ(Microcup®)アーキテクチャを使って実行することができます。
2色または3色電子ペーパーと同様に,ACePも優れた低電力性,紙のような質感,日光下での視認性といった特徴を備えています。
This system is found in E Ink's Gallery and Prism product lines.
Learn More.
FAQ
Learn more about E Ink and how our technology works.
E Ink is the creator of electronic ink — the optical component of a film used in Electronic Paper Displays. Although futuristic-sounding, electronic ink is actually a straightforward fusion of existing knowledge of chemistry, physics and electronics to create this new material. It's so much like paper, it actually utilizes the same pigments used in the printing industry today.

While E Ink has several types of electronic ink, we became best known for our microcapsule technology. In this system, the electronic ink is made up of millions of tiny microcapsules, about the diameter of a human hair. Each microcapsule contains positively charged white particles and negatively charged black particles suspended in a clear fluid. When a positive or negative electric field is applied, corresponding particles move to the top of the microcapsule where they become visible to the user. This makes the surface appear white or black at that spot.

Does E Ink have a color product or is it only monochrome?

E Ink has several color products available.

E Ink also offers a three to five color product called E Ink Spectra, which is optimized for electronic shelf labels and point-of-purchase sale applications.

In addition, E Ink offers a one-color product called E Ink Prism, which is optimized for the Architecture market.

For full color, we have E Ink Gallery; and E Ink Kaleido in 4096 colors.

How long does it take to update an image on an E Ink Matrix display?

An E Ink display module supports numerous modes for updating the display. Different modes exist to support the different update requirements. Update times can be as short as 120 ms. for the entire display. However, because E Ink screens are bi-stable, only the regions of the screen that are changing require updating. Any pixels that are not changing do not require updating.

Can an E Ink Matrix display support animation or video rates?

Using the faster update modes, E Ink screens can support animation quality video rates. A number of examples are available from customers that show examples of E Ink screens showing video. However, constant updates reduce the power efficiency of our ink systems. Current production modules do not support video rate updates.